Menu
About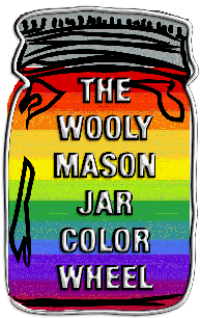 About how this all started...
After spending too much money on too many things that I really didn't need or understand and just to have them sit on the shelf collecting dust I decided to go back to basics to relearn dyeing.
  I dyed my own personal pallette and color wheel with the help April DeConick from Red Jack Rugs.
 My mistakes turned into my good fortune and I discovered an easier method for me to understand. I knew I had to simplify it and make something that made sense for me and others like me.
 No need to waste money any more I now have the system that will look after all our dyeing needs.
 This system was too good to not share, it is fun, easy and learn the color wheel as you go! All the hard work is done for you.
 I can't afford to play with yards of wool and never be able to duplicate the color unless I dye another large piece. Working with 3" x 18"pieces lets you play without the worry of breaking the bank. If you make a mistake on  a 3" x 18" piece of wool it is not a big deal just over dye it. This freedom is sooo much fun!!!
I am offering my homemade swatch/color wheel/recipe cards for dyeing as an aid to beginner and experienced dyers.
 I am not an expert by no means but this is easy to follow and my friends have all urged me to sell some. I hope to help a few people out as well as recover some of my expenses. Thanks for visiting.
Most cards are printed, laminated and put together by me which is time consuming so I take orders and fill them as I go. This is the therapy I need for my wool addiction. So please be patient.
Thanks for having a look. Please contact me with any questions lucy@thewoolymasonjar.com
PLEASE NOTE THAT MANY ITEMS WILL TAKE YOU TO A NEW WEBSITE THAT I AM WORKING ON WITH MY DAUGHTER 
If you wish to go deeper into palette dyeing April Deconnick has a book The Wool Palette that is more in depth for advanced dyers.
The Wooly Mason Jar Dye System was originally adapted from the dyeing system created and published by April D. DeConick, The Wool Palette: A Rug Hooker's Guide to Dyeing Your Own Color Palette of Wool (revised edition; aprildeconickrugstudio.com).

Color Wheel prices. Please note prices are in the currency of the country it is shipped to.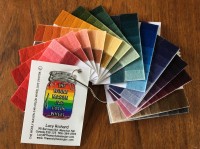 Prices for The Wooly Mason Jar Dye System.
Option 1 (Cards Only)
  The 

"Original" 

Wooly Mason Jar Color Wheel hand laminated "playing cards" only includes:
Laminated cover instruction card.12 - 8 value color wheel recipe cards 
12 - tones and shades sample cards
2 - 8 value cards of charcoal grey and chestnut brown
2 - conversion sleeves which allow you to dye up to 1/2 yard.
Card Set only
 $121.00 plus $25 postage 
Order here 


PLEASE NOTE A JEWELLERS GRAM SCALE (.01 g) IS NEEDED TO WEIGHT THE DYES. 
Use your kitchen scale is used for weighing wool amounts.
WMJ "COOL" EXPANSION 1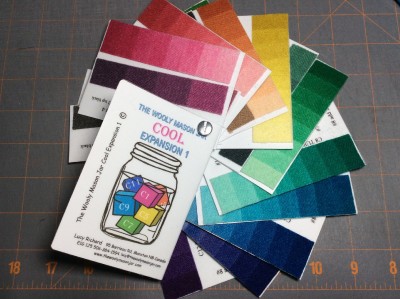 Cool Expansion 1
Here is is folks the anticipated "COOL" EXPANSION 1!
Exact same Color Wheel Clock mixing but with 3 new ProChem Primaries! C1-PC Fuchsia 349, C5-PC Sun Yellow 119 and C9-PC Turquoise 478! And of course your Chestnut Brown and Black from your previous kit!
Remember our original set numbers were "W" for Warm now these numbers are "C" for Cool.With these and now that you know how my system works you can simply just make only 6 jars which include your   3 Primary Jars C1 FUCHSIA, C5 YELLOWANDC9TURQUOISE +3Secondaries C3ORANGE,C7 GREEN AND C11 VIOLET.Mix the remaining Tertiaries only when needed by mixing equal parts of a primary a secondary jar! Could be 1/2 tsp of each one 1 Cup of each! Equal parts is equal parts!


 Order your own from Prochem after that or check with me if you have questions.   
Please email me at 
lucy@thewoolymasonjar.com
 before ordering if you have not used my system. I like to make sure you understand what you need. Thank you.
Prices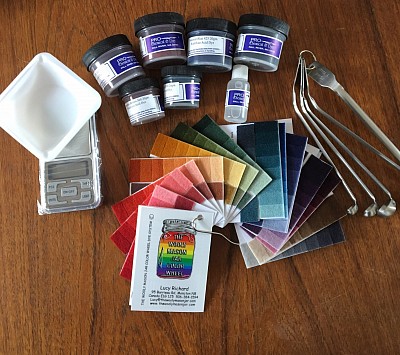 WMJ Color Wheel Dye system
Watch and learn with me!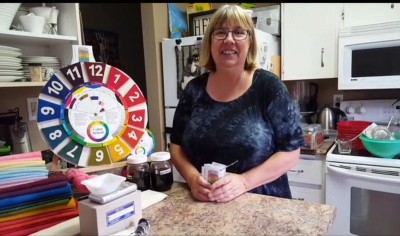 Part1






What is The Wooly Mason Jar Color Wheel Dyeing System?
INTRODUCTION
Dyeing demos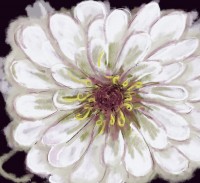 WMJ Dye Recipes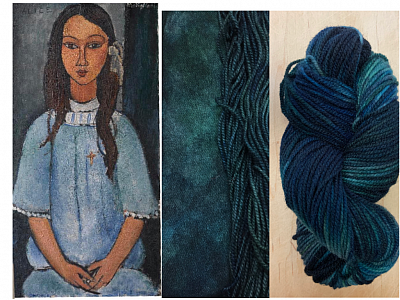 MODIGLIANI ALICE WALL with WMJ original dye system.
While helping my sister get ready for a class at the Hooked Rug Museum of North America on Modigliani.
This lovely blue on the back wall to the right of Modigliani Alice and so much fun to dye. In yarn and wool.