WMJ "COOL" EXPANSION 1
Cool Primary colors used with The Wooly Mason Jar method.
Please email me at lucy@thewoolymasonjar.com before ordering if you have not used my system. I like to make sure you understand what you need. Thank you.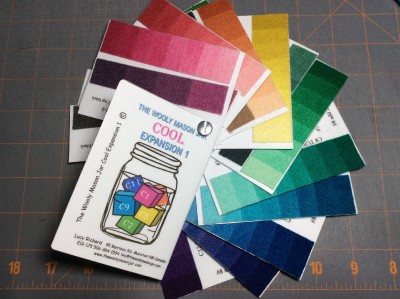 Here is is folks the anticipated "COOL" EXPANSION 1!
Exact same Color Wheel Clock mixing but with 3 new ProChem Primaries! C1-PC Fuchsia 349, C5-PC Sun Yellow 119 and C9-PC Turquoise 478! And of course your Chestnut Brown and Black from your previous kit!
Remember our original set numbers were "W" for Warm now these numbers are "C" for Cool.With these and now that you know how my system works you can simply just make only 6 jars which include your 3 Primary Jars C1 FUCHSIA, C5 YELLOWANDC9TURQUOISE +3Secondaries C3ORANGE,C7 GREEN AND C11 VIOLET.Mix the remaining Tertiaries only when needed by mixing equal parts of a primary a secondary jar! Could be 1/2 tsp of each one 1 Cup of each! Equal parts is equal parts!
$110.00 Cards only
$120.00 Cards +small preweighed Dye packets
Includes pre portioned weighed PC dyes (2 g primary + .2g brown) to make 2 Cups of each Primaries plus Black to get you going.
Order your own from Prochem after that or check with me if you have questions.